WHAT'S NEW?
FEBRUARY/MARCH 2015 NEWS: Becky and Slam continue to write and record beautiful music in their King George studio this month working with musical couple, Janet and Keith McConnell. Their music is a blend of their unique individual styles as described in a fun interview with the couple published in the local newspaper, the Fredericksburg Free Lance-Star as written by good friend, Stephen Hu. The Becky and Slam article was published in the Free Lance-Star WEEKENDER section.
The big news of the month of FEBRUARY 2015 is the Grand Opening of Becky and Slam's partner studio, THE CATALYST. Please join us on the last Saturday of the month, 28 February, from 1 - 5 p.m., in the new studio located at 3451 Jeff Davis Highway, Fredericksburg, VA (on Route 1 just north of Harrison Road across from the Chevrolet dealer and right next to the Enterprise Rental Car office). The Catalyst is a multi-media production faciliity that specializes in studio recording, live recorded broadcast (on-stage in the new facility), and electronic repair. Check out this article published in the Free Lance-Star last Fall when the construction first began:
CATALYST "Entertainment Firm Opens in Spotsylvania" . Saturday, 28 February, 1 - 5 p.m. at 3451 Jeff Davis Highway, Fredericksburg, VA. Everyone is invited to the grand opening party, and to be sure you get notice, please provide us with your email address. And yes, there will be cake!
Becky and Slam are pleased to introduce a new venue in which they will be playing this year. After a successful 8 February Sunday afternoon show, the couple will return to COOPER VINEYARDS as the weather warms up. Cooper Vineyards, located a short distance southwest of Fredericksburg, boasts a spacious tasting room with custom concrete bar, a large covered deck with wonderful views of the existing vineyards and pond, outdoor bar, a private tasting room and deck for parties of up to 20 guests. The winery invites its guests to bring a picnic lunch and any canine guests (on leash) to its warm and comfortable facility.
CONNECT WITH FACEBOOK: Contact Becky or Slam through Becky Stewart's Facebook Page or Slam Stewart's Facebook page. You may also "Like" the Slamone LLC - Bands Facebook Page to get updates on the vast array of bands that span the genres of jazz, funk, Latin (salsa and jazz), smooth jazz, R&B, soul, reggae, gospel, and rock for your special event!
---
COME VISIT BECKY AND SLAM'S STUDIO!
Slam and Becky Stewart invite you to come visit them in their music studio in King George, VA (a division of Slamone, LLC, incorporated in the state of Virginia on March 20, 2009).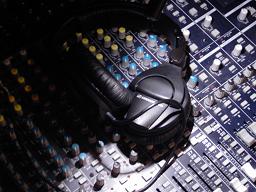 Cut-Time studio is the in-house studio of Slam and Becky Stewart, located in King George, just outside of Fredericksburg, VA. The 900 square foot studio provides new and comfortable classroom and music rehearsal space, a vocal isolation booth, 48-track digital recording capability, and music transcription and songwriting and music creation services with the Korg Triton music workstation.
The recording studio is open and available to all levels of instrumentalists and vocalists, and especially family members of any age. Got a song to sing for your honey? Or a birthday jam to record for your friends? Or a Christmas greetings tune to send to your family? Slam and Becky will hook you up at an affordable cost!
Need LESSONS? Becky and Slam teach lessons at their Cut-Time studio for drums, piano, voice, flute, guitar, bass, and songwriting. Please email Becky at beckyt@crosslink.net and Slam at slam.stewart@gmail.com if you are interested in private lessons.
Also call for a tour and to stop out and have a cup of coffee with Slam and Becky. The studio phone number is (540) 775-9818.
---
STUDIO DIRECTIONS (FROM FREDERICKSBURG):
Travel eastbound on Route 3 (William Street) passing through old town and crossing over Chatham Bridge.
Turn left at the light at the end of the bridge, go to 2nd light, then turn right (at CVS to your right) onto
White Oak Rd/Rte 218
Go ~ 5-6 miles, then turn left onto Route 600 (Bethel Church Rd) just before the big brick church
Go ~ 3-4 miles thru the curves then turn left onto Route 654 or Belvedere Drive
Studio is 1/2 mile down on your right at 2162 Belvedere Drive, King George, VA 22485 (there is a beige-covered mailbox with an "S" on it).
---