HOT AND SPICY BANDS FOR HIRE IN 2013!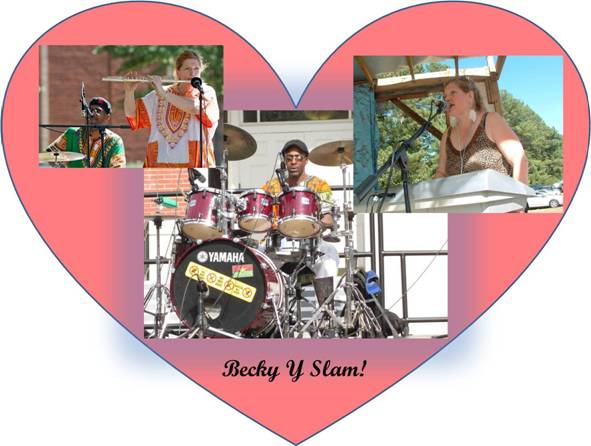 FEBRUARY 2014 NEWS: Becky and Slam are enjoying a peaceful and prosperous new year (the two "P's"!) Thanks to the Free Lance-Star and Stephen Hu for the fun interview end of last year of the Stewarts. The Becky and Slam article was published last Thanksgiving Day in the WEEKENDER section.
Becky and Slam look forward to a special event in putting on a program for the Mary Washington Elder Study group om the morning of February 20. If you are a member, come join the fun. Details for membership can be found at www.elderstudy.com.
Becky and Slam also continue to work this month on their CD of original compositions entitled, "If You Only Knew My Baby". A big thank you to community musicians, Eddie Dickerson, Nic Sam, Keith McConnell, and Roy McElmore who have all blessed the CD with their amazing talents.
LIKE IGUANAS?! Local videographer, Melvin "Videomann" Brown, videotaped locally-popular "Iguana Song" (about Becky being on vacation and wanting to come home) in a performance by "BECKY SLAM Y DAPHNE" outside of "When Pigs Fly" -- an amazing "upcycled" furniture / art decor store at 1011 Caroline Street, Fdbg last month (December 2013). Video coming soon!
2014 Educational Kutambarara (African "sharing"):! Becky and Slam look forward to presenting some new ideas for educational grants for the Fredericksburg area.
If you'd like to be added to a mailing list for future BECKY AND SLAM events, please email Becky at beckyt@crosslink.net or contact Becky or Slam through Becky Stewart's Facebook Page or Slam Stewart's Facebook page.
The "Becky Slam Y Daphne" trio is available to play for small to medium-sized venues, house parties, and private receptions with their eclectic mix of originals, jazz standards, funk, and pop tunes with an Afrocuban flavor or "sabor afrocubano". The schedule is filling up with some public events and many private parties, so check us out at one of the upcoming local shows and be sure to sign up on an email list to get notification of upcoming events.
Slamone LLC - Bands is also pleased to offer a vast array of bigger bands that span the genres of jazz, funk, Latin (salsa and jazz), smooth jazz, R&B, soul, reggae, gospel, and rock: for your private and corporate event, if you love the "Electric Slide", grab some funk, R&B, and jazz with Earl Sam's Network (heavier on horns), choose a fun-loving reggae mix of covers and originals with the Sons of Solomon (reggae band), or bring on the party-fun for all ages with Sunset Syndicate (Classic Rock and Originals) featuring hula-hooping Amber, one of the star "singing ladies of the 'burg'! See Sunset Syndicate's latest video produced in March 2013! Please email Becky or Slam at slam.stewart@gmail.com or call 540-775-9818 if you have needs for any of these sounds!
---
COME SEE US SOON!
Slam and Becky Stewart invite you to come visit them in their music studio in King George, VA (a division of Slamone, LLC, incorporated in the state of Virginia on March 20, 2009).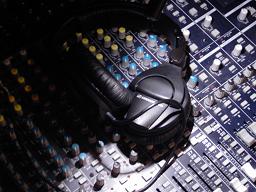 Cut-Time studio is the in-house studio of Slam and Becky Stewart, located in King George, just outside of Fredericksburg, VA. The 900 square foot studio provides new and comfortable classroom and music rehearsal space, a vocal isolation booth, 48-track digital recording capability, and music transcription and songwriting and music creation services with the Korg Triton music workstation.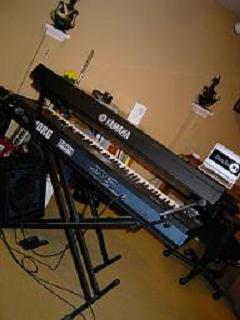 Call for a tour and to stop out and have a cup of coffee with Slam and Becky. The studio phone number is (540) 775-9818.
The recording studio is open and available to all instrumentalists and vocalists at any level. Got a song to sing for your honey? Or a birthday jam to record for your friends? Or a Christmas greetings tune to send to your family? Slam and Becky will hook you up at an affordable cost!
---
RECORD A MUSIC CD FOR FAMILY AND FRIENDS!
Slamone, LLC offers a CD special to record you or your group's songs onto a specially-packaged CD for Christmas, Valentines Day, birthday or anniversary, or any occasion you desire to give your family and friends. Call (540) 775-9818 and speak to Slam or Becky about this $200 special at Cut-Time Studio.
Also, lessons continue to be available at Cut-Time studio for drums, piano, voice, flute, guitar, bass, and songwriting.
---
STUDIO DIRECTIONS (FROM FREDERICKSBURG):
Travel eastbound on Route 3 (William Street) passing through old town and crossing over Chatham Bridge.
Turn left at the light at the end of the bridge, go to 2nd light, then turn right (at CVS to your right) onto White Oak Rd/Rte 218
Go ~ 5-6 miles, then turn left onto Route 600 (Bethel Church Rd) just before the big brick church
Go ~ 3-4 miles thru the curves then turn left onto Route 654 or Belvedere Drive
Studio is 1/2 mile down on your right at 2162 Belvedere Drive, King George, VA 22485 (there is a beige-covered mailbox with an "S" on it).
---